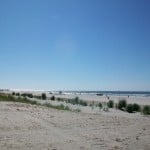 Most of you who know me know I work quite a bit in Atlantic City, NJ these days. I was raised with my toes in the sand every single summer since I was six months old. As an adult, I lived in or near all of the best Jersey Shore areas. I love the beach. I have always loved the beach, but I no longer live by the beach. Sometimes life dictates things other than your ideal situation.
Well, yesterday, we were headed down to Atlantic City to see the Johnny Mathis show so I could write a review (coming soon to Ms. Atlantic City). When a hotel is packed out, oftentimes you don't get your pick of rooms; you take what's available. Well, when I opened the door to our room, I gasped. We've had ocean views before, but not quite like this. I could see from the door through a very clean window and it honestly took my breath away.
Since we were fairly early for what we had planned to do, we turned our chairs towards the window and sat and just looked out. It's quite a difference from the woods I now live in. Peace like a river. . . it may be a cliche, but there it was. And I realized that the beach was indeed "my place." We've been talking about moving back and that view cemented my resolution.
This morning, I woke up to a sunrise over the beach and the peace flowed once more. Double dose of cement to the resolution. It will take a bit of doing, but it's definitely doable. I have to go back there to have peace. So I will. I keep mixing I and we, but hubby feels the same way I do.
The beach is "my place." What's yours? To some it's a farm. To some it may be mountains. To others it may be a city sidewalk. I much prefer a place where things are happening to total peace and quiet. I live out in the woods now. That may be "your place," but I've been here ten years never cared for it. Life's little circumstances plopped us here and here we've stayed, but it's not "my place" or even "our place."
My hope for you is that you find "your place."  It took me a long time to realize why I kept returning to the beach. I have lived in a lot of places and in different parts of the world, but I could never stay. The beach kept calling me back. Now I know why. Soon I will go to the beach and stay.