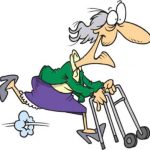 Are you getting up there in age? Do you feel like you're spinning the wheel on your favorite game show every time you have to pick your birth year from one of those dropdown menus? Yeah, mine is way down there, too. But before I start ranting, let me say that aging sure beats the alternative. So many were not permitted to get old and that's sad. I'm really not complaining. BUT when your younger self was so diametrically opposed to what you are becoming today, well. . . sometimes it just pisses me off. Here are three of my top contenders in the "Things That Suck About Getting Older" category.
A Mind Is A Terrible Thing To Lose
Dear God, what happened to my brain? I kept a family of seven running for years without a planner or reminders of any kind. I knew all their schedules, appointments, needs and it was all stored in my head. You know what's in there now? Some giant colander and the holes keep getting bigger and bigger.
Case in Point: I've been doing legal transcription for over 30 years. I know all the key strokes by heart. Well, I did. I'll be in the middle of something, go to reach for the keys to produce the formatting I need and. . . TILT!!!! What the hell was I doing? I mean, it's THAT bad. And I think that's one of the worst parts of this, forgetting things I've been doing for decades. UGH
Slowly I Turned. . .
For those of you who've never watched Abbott & Costello or the Three Stooges, Slowly I Turned is an old vaudeville routine that they picked up, along with many other performers. Slowly I turned, inch by inch, step by step. . . . and so forth and so on. I've inserted it down below in case you've never seen it.
Sadly, though, SLOWLY is how I am forced to do everything now. Me and my little butterball butt used to skip right along and almost run to do everything. Man, I was quick! People used to comment on it all the time, not understanding how someone my size could run around like that. But I did. Now? Hardy Har Har. If I tried to run anywhere or even race walk I'd be face down on the concrete. In fact, I oftentimes am face down on the concrete. Forget about heels and hot shoes. My footwear wardrobe now consists of fashion sneakers and boots (without heels).  ARGH
Packaging Is Evil
In my younger days I used to shred and rip with the best of them. No package could stand up to me!!!! Trust me when I tell you that they now have nothing to fear. I usually just hand the package to my husband and he opens it. If I ever have to do it alone, there will be carnage all over the floor as I take a knife and/or scissors to the damn thing!!!! And medicine? HAH!!!! Now to be perfectly honest here, medicines did not have the dastardly childproof caps on them in my younger days. And I don't remember blister packs either.
Of course, the Tylenol scare of 1982 changed a lot of that. Yes, meds had to be made more secure but COME ON!!!! That blister pack looks like plastic, but I swear it's IRON disguised as plastic. I don't even try anymore. I just grab a scissors and slash and burn. Take THAT, Mr. Blister Pack!!!! And I'm sure we all know by now that any child can get into a "childproof" cap in about a half-a-second whereas it takes me. . . much longer. If I ever need that medicine in a hurry, start getting your outfits ready for my funeral. Nice bright colors, K? No black. UGH
There WILL Be More. . .
This is just what I could think of off the top of my head. There WILL be more, I'm sure. Day by day, sometimes hour by hour, I seem to be losing parts of my former self. However, I feel some of the best parts of me are still there and always will be. Hey, a girl can hope, right? 😎
For those who have never seen "Slowly I Turned," here's the Stooges version. . .