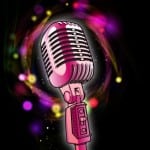 I read an article this morning about a gun range in the back of a church. The article opened with the words, "Praise the Lord. . . . and pass the ammunition." All of a sudden, the old WWII song of the same name flooded my brain and now it's stuck there. I'm old, but not quite WWII vintage.  Where did that song come from? It didn't take too long to remember.
My Grandmother.
I grew up with my beloved Grandmom singing to me. She sang the songs she knew, songs of WWI, WWII and the world she grew up in. I got lots of strange looks in elementary school when I would walk around quietly singing How you Gonna Keep 'Em Down on the Farm After They've Seen Paree?
(Where's Paree, Grandmom?)
In fact, until I was an adult, it never dawned on me that Over There was a WWI song (along with Paree). I just thought it was one of those great old songs I saw in the black and white movies I enjoyed with Grandpop on the weekends.
The memories are flooding back now.
Grandmom taught me about the Easter Parade and wearing a proper bonnet.
(What's a frill, Grandmom?)
She taught me all about a bicycle built for two, although I'd never seen one in my childhood. Not the most coordinated of young girls, I had enough trouble learning to ride a bicycle built for one.
(Why would I look sweet on a bicycle built for two, Grandmom?)
She taught me about being short with blue eyes. My Grandmom was short with green eyes, barely 4'8, actually, but I always thought that beautiful song about the 5 Foot Two dame was written for her.
(How do you coo, Grandmom?)
When she sang about those horrible Depression years, I always wanted to run and get her a dime. I knew I could spare it even if Buddy couldn't.
And guess who was probably the only first grader in 1950s Philadelphia who could beast the Charleston? We did that in the basement on rainy days.
Grandmom's been gone for a while now. I was so blessed to have this remarkable woman in my life for 51 years. Few are so privileged. Most of the songs she taught me are also long gone, except when they live briefly in the old movies on AMC and TCM.
Most adults today wonder what the hell I'm humming when the memories come over me. They don't know.  I do.  I remember. And that's when the better parts of my childhood, in the guise of a very tiny tiny lady with blonde hair and green eyes, overtake me.
I miss you, Grandmom.  But don't worry.  I'll always Keep the Home Fires Burning for you.
Until we meet again. . .