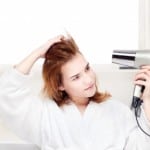 My 16-year-old was in the bathroom the other day getting ready to go out. Nothing unusual. Her makeup was all over the bathroom counter and her straightening iron was getting good and hot to take the gorgeous waves out of her hair, the way she likes it. I happened to glance down at my watch and note the time. She wasn't due where she was going for 2 – 3 hours yet. And then I looked at the shirt she was planning on wearing, casually tossed over the chair, NOT one of my favorites. My mouth was open with words on the tip of my tongue and.  .  . I bolted out of there like the hounds of hell were hot on my tail.
Why? Because the image that jumped into my mind was of a 16-year-old me, looking in a bathroom mirror, my makeup all over the bathroom counter, hair spray in hand, all decked out in my new tent dress that I made myself (and it looked store bought!) out of some great psychedelic material and. . . my mother walking in, looking at me, making that disdainful noise she always made when she looked at me and saying. . . "Are you honestly going out looking like THAT?"
My 16-year-old heart was crushed. I had just spent 2 – 3 hours trying to look good. I was never as pretty as that kid of mine is so I worked extra hard at it. And in eight words, the person who was supposed to love me no matter what shot me down and shot me down hard. She did it all the time. And I was just about to pass on the tradition.
My mother was about to come out of my mouth. Will this woman never leave me? She didn't like me. I was and still am an embarrassment to her, the way she sees it. I will be working at getting her out of my head until the day they nail me into a box. But this is something that has to stop here and now. I have to be more aware. I have vowed not to repeat the pattern.
Admittedly, my kiddo is a bit stuck on herself. Why? Because in an effort to not do what was done to me, I have told her since Day 1 that she is beautiful, intelligent, hot, the best, that she can do whatever she sets out to do. Some have told me I created a monster. Maybe. She has problems that I didn't create, but one thing she doesn't have is a problem with her self-worth.
Apparently, though, I haven't broken that chain entirely yet. I was about to say something derogatory to her about what she was going to wear. Did it matter? Probably not. The shirt she was wearing was not something I'd wear. Gee, I wonder why? She's 16 and I'm 60. I thought it looked "trashy," but it covered her. She'll grow out of some of this. I didn't wear the same stuff at 21 that I did at 16. I know this. But there I was, about to inflict the same kind of damage that I've been fighting against all my life.
The good news is that I stopped in time. This time. Will I stop in time next time? Oh, Lord, I hope so. No matter what problems the two of us have (and we have some whoppers), I never want her to look in the mirror and hate what she sees, to think she's not pretty enough, not smart enough. . . simply not good enough. I know that feeling and wouldn't inflict it on my worst enemy, let alone someone I love.
This is one of those experiences that has made me think. In itself, it's not much of anything, really. But that "nothing" could have done some serious damage. She's fragile. What almost 17-year-old girl isn't?  So I will be on my guard for next time, because there will be a next time. That's how serious this type of damage is. It's like it never leaves you, but I am damned and determined not to pass it on.
Can Old Busted Hotness do it?  Film, as they say, at 11.