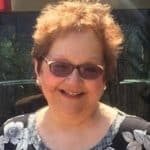 Do you work out? I do. If I'm being perfectly honest with you, I'd rather not but. . . I'm afraid not to. Age and illness have taken their toll and, if I sit too long, there are consequences. So off I go to the gym and yoga. Lather, rinse, repeat. Lately, I see lots of other folks there who look just like me, older and larger than the average bear. I used to go in old (lady) pants and tee shirts. But one day I looked around at all the ladies rockin' their cute active wear outfits and decided, "Why the hell not?" I left the gym, headed to Lane Bryant and snagged me an outfit.
That First Outfit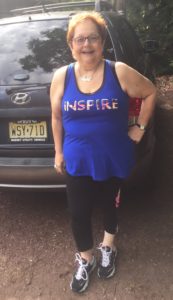 This was that first outfit. (Yes, my flying squirrel upper arms are showing, thank you very much! 😉 ) The mannequin was wearing the only one in my size. I stripped that gal nekkid in a heartbeat and bought it. LOL The top is royal blue with the word INSPIRE on it. I needed that. The pants are actually capris but I'm mega short, remember? They're sorta kinda crops on me but I can yank them up to the knees if necessary. You can't see it well here, but there is a multi-colored stripe down the side of the pants that matches the word INSPIRE.
Super comfy. Easy care. All the good stuff. And not too expensive to boot. I'm wearing a 14-16 in this pic. You will note that most of my tops will be tight around Jabba the Gut. If I buy them bigger, they tend to swim on me in all other places and make me look sloppy. So I just go with the snug middle look.
My honest impression of Lane Bryant active wear:  Good quality, reasonable price (on sale) but not a huge selection. That being said, they are getting more and more as larger women are becoming more active.
But Wait, I Need More!
I'm going to the gym 3-4 times a week. OMG, I need another outfit!!!  Back to Lane Bryant I went. Problem was they didn't have another one that I really liked. As this blog moves forward, you'll find out how picky (anal) I am about what I spend my hard-earned clothing bucks on. So remembering that Google is my friend, I found Fabletics.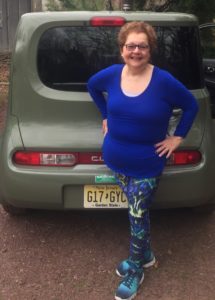 Fabletics is an exercise wear company founded by Kate Hudson, Goldie Hawn's daughter. She's late 30-ish and in amazing shape. When I first heard of them, they had kind of a bad rep. They apparently made some changes because, all of a sudden, I began hearing good things about them. All the models look like Kate Hudson and not me, not by a long shot.  I didn't know if the clothes would fit. I got a good deal through a friend, though, so I tried an outfit. When it arrived, I was like. . . uh-uh, no way.  But. . . does shuckin' and jivin' into compression pants classify as a workout?  It should!!!
As you can see, this one is a royal blue top with LOUD leggings. Luv me some wild prints! I'm wearing a size 14-16 which is an XL in their size range.
Fabletics is a membership site. Every first of the month they debut new outfits for that month. You have five days to decide if you want something and boy, oh boy, do the outfits sell out quick! Outfits are $49.95 and up, usually with free shipping. If you don't make a selection by the 5th OR SKIP THE MONTH (more in a moment), they put a $49.95 charge on your credit card that you can use whenever you'd like. You can skip a month at any time. Believe me, I've skipped most of the months that I've been subscribed. SHAMELESS DISCLAIMER:  If you click THIS LINK and sign up, you get two pair of leggings for $24, which is the current sign-up special. And I get something for it, too. 🙂
My Honest Impression of Fabletics:  Great style, good fit, easy to navigate website and membership plan. GREAT NEWS!!!  They just started carrying some kickass plus sizes up to a 24. I like the leggings much better than the tops. The three pair of leggings I own are very strong and supportive. The tops not so much, but they look good!
Old Navy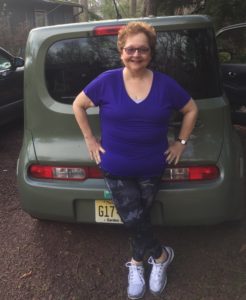 One day I decided I needed something new to encourage me to go to the gym. I ended up in Old Navy, attracted by a sign that said BIG SALE ON ACTIVE WEAR. I had ordered some of their compression workout pants about two years ago as they only had the larger sizes online. I was pleasantly surprised to find they were now in the store up to a 2XXL, which is about a size 20-22.  This is my Old Navy gym outfit.
The top is purple and the bottom is gray camo. The back of the top is actually mesh but it overlaps so there's not much showing. Yeah, you can see the back of my sports bra. Who cares? I'm such a rebel these days!  (HAH!) This one was a little pricey and I wouldn't have bought it had it not been for the extreme sale. I'm wearing a size large as the XL didn't support Jabba the Gut. I am not comfortable with my floppy bits flopping about, especially while working out.
My honest impression of Old Navy active wear: Good styles and prints. A little on the expensive side, so  wait for sales! From my experience, the sizes are not always consistent so try it on first.
Lots of Choices
As I said in my prior post, there is explosive growth in the plus-size active wear market. You can get outfits and separates in many places, including JC Penney, Walmart, Target and other big box/mall stores. Even Nike, that staunch defender of the Just Do It thin folks, has started carrying larger sizes. (Two words:  Cha Ching!!!) It's actually fairly easy to find active wear up to a 3X. However, if you're larger, don't despair! I'm doing some research into extended-size active wear. I know it's out there and I WILL find it. Stay tuned.
Oh, do you notice my huge feet? For some reason, that and my big gut are all I see when I look at these pics. LOL  I am barely 5'1″ (if I stand up real straight and suck it in hard) and yet I wear a size 9-9.5 shoe. My mother always said I wouldn't tip over in a storm. For some reason, the shoes look HUGE to me although I've worn this size shoe since I was a young woman. We're our own worst enemies, aren't we?
Coming Up Next
Stay tuned for the next edition of Old Busted Hotness. Fridays are going to be reviews of catalogs, stores and other places to get stylish, wearable and reasonably-priced (for the most part) clothing for us, the older, larger woman who wants to look GOOD. I get a gazillion catalogs and have purchased (and returned) many, many things. The exploration starts in two days.
See ya then!