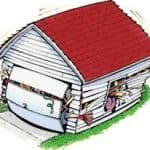 We all have stuff. Do you have enough stuff? Too little stuff? Too much stuff? What do you do with that stuff? Right now, I need an answer to that last one. Downsizing, not Grease, is the word these days. How do you do it? Just trash it? Have a yard sale? Give it away? All of that? What do you do when you simply have too much stuff?
Memory Lane
I didn't realize how much stuff we had until my mom passed. When we originally bought this house, we bought it with her. Then we took it over. Until the day she died she insisted it was HER house. She would not let us keep one thing in the common areas. So a then 30+ year marriage was stuffed into the attic, the garage, closets, anywhere we could find a spot. It didn't look too bad in our prior home, all nice and spread out. It changed when we had to stuff our stuff into any space we could! Once she was gone, we started to let it all out into the open and. . . it was just way too much stuff!!! Apparently, we had acquired more and kept stuffing.
Bitchy Stuff
And then there was the time when I was writing entertainment news and doing celebrity interviews. These outings were usually accompanied by a small cadre of press folk, usually hot young chicas who were not too happy that an old bat was in their midst. HAH! And were they catty or WHAT??? They would look you over when you first arrived. Snide comments on your shoes, your handbag, your outfit often accompanied the handshake as they faked a smile. "Walmart is putting out such nice shoes now, aren't they?" Most designer labels weren't made in larger sizes then, so. . . I bought shoes and handbags. Most of them have now been donated for charity auctions and such because why do I need that stuff now? Truth be told, I shouldn't have bought it then. I bought it to shut them up. Seemed like a good idea then. Seems like foolishness now.
Less is Supposed to be More
Less may be more in makeup as we age, but the acquisition of stuff is a sign of success in the USA. It's a sign that we're well enough off to afford more stuff. We've made it. Hey, look at my stuff!!! Credit cards can lead to the acquisition of more stuff, too, in those who can't afford to whip out the cash for more stuff. Do you know how much cash you need to buy a Dooney & Bourke bag? Trust me in that if you live paycheck to paycheck it's way too much.
Where Does That Stuff Go?
Where do you put all your stuff? I've walked into peoples' homes and seen beautiful displays of dolls on the floor, candles, quaint Colonial or Victorian looks. Their homes looked wonderful, like something out of House Beautiful! My house often looks more like an episode of Hoarders. And it seems that the more I toss out the door, the more appears. I'm not buying much these days, so does this stuff do it in the middle of the living room floor when I'm sleeping? It must.
What We Do
I throw stuff out daily. We donate boxes and boxes of stuff. Folks need stuff right now, I mean, really need, not want. I keep threatening the remaining occupants of this house with a dumpster parked in the driveway. I will pitch and toss with a vengeance as I dance around it and cackle maniacally. Okay, okay. There are some things that mean something to me. Our pics on the walls. Things my kids made for me when they were small. My yarn stash, which is MUCH smaller than in days past as in I actually have a chance of using it up before I die. We need shoes and clothes, but not so many. And let's be honest here. How many pots, pans and kitchen tools does one actually need? Well, if you're feeding the passengers on the Queen Mary, maybe you need a lot. But not in my kitchen.
So What's an OBH to do?
Now I'm looking for your help. Leave me a comment on any sure-fire ways you have to get rid of stuff and keep it from multiplying. We are contemplating a move. We need way less stuff. So. . . fire away!!! And enjoy the video of the end-all, be-all authority on stuff, the late great George Carlin.
WARNING: Adult Language!!!