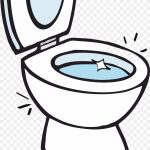 Hurricane Isaias came barreling up the Atlantic Coast earlier this week after walloping parts of the Caribbean. Storms happen all the time in New Jersey. Sometimes, we get nailed; other times, we don't. We got trounced by a derecho (a severe vertical wind storm) in 2012 in my neck of the woods, to be followed up by Hurricane Sandy which mostly missed us but almost destroyed the northern end of the state. So when the power went down on Tuesday morning, it was ho-hum. It'll be back on in a few minutes. Except that it wasn't.
Living in The Boonies
I live in a rural area. No power means no nuttin' honey, including the bathrooms. Yes, we have our own well, but you need an electric pump to get that water up out of the ground and into the house. When my kids were little, we had a big swimming pool in the back yard and we used to run a bucket brigade to flush the toilets. The pool's been gone for ages. During the derecho and Hurricane Sandy we had these huge industrial barrels which we used to take to a friend's house who had city water and fill them up. It got to be quite a drag. We also used to stockpile gallons of bottled water for taking showers.
For Want of a Generator
We sat in our 105-degree living room for almost a month without power back in 2012 when the derecho hit. We were totally cut off. We had to make sure we could get out to get gas in the cars so we could pull them up to a window and run a charging cord out to power our phones. This was our only connection to the outside world. Telephone lines were out, too. We lost the food in the fridge and freezer. Everybody smelled really good (NOT). We had a camp stove out on the back porch for making coffee and elementary cooking. A friend eventually loaned us a small generator and it was such a relief. Right then and there I made a vow that I would do whatever it took to get a generator of our own.
It took me a while to save the money, but we waited for a deal at Harbor Freight and eventually got one. Armed with saved cash and a 20% off coupon, we proudly brought home the generator that has been gracing my back yard ever since. It doesn't run the entire house, but it runs enough of it. We had it for a year-and-a-half before we needed it. I thought. . . all that money and those storms were a one-off? And then I remembered. Hey, this is New Jersey. So it got use. Not a lot, but it was a relief to know it was there.
But Life Without Power in Today's World?
We waited for quite some time for the power to come back on the other day, thinking. . . "Any minute now it will be back." The electric company always puts estimates on their outage line. No estimates. Hmmm So after waiting for 5 or 6 hours (yeah, we're stubborn), hubby went out to hook up the generator. That at least gave us lights, water pump, fridge and freezer. It also gave me back a computer.
That's good, right? Yes, it is. Before the computer got back online I was thinking, "Oh, I'll just do this, this and that." But I couldn't do this, this and that without power. Banking? Need the computer. Business? Need the computer. Letting people know we were okay? Need the computer. And the computer needs. . . power. So we were effectively stuck. It took me a while to get things caught up and, truth be told, a day later I'm still not totally caught up. As they say in the Disney movie, it threw off my groove.
Where Was My Phone?
Well, yes, my phone was operating, but. . . it wouldn't load much of anything. No weather reports. Facebook? It loaded from the cache and wouldn't update. The only thing reliably working was Messenger and texting, so at least I could let a few people know we were okay. As far as keeping in contact in other ways, forget it. And we have good phones on a decent network. Well, at least I thought we did.
So. . . Back to That Generator
If you live in a heavily-populated area you probably won't ever face any of this. When I complained after the 2012 fiasco, the electric company told me that they complete repairs by population of districts or some such garbage. My *district* has a whopping 16 homes in it so guess who gets last place? Yep, you've got it. But as rural as we are, there are other areas around here who get last minus one or two. I have friends still waiting with no end in sight.
Our generator is a must for this type of life. Without it, we would have been much worse off, a mini version of 2012. Yes, it takes gasoline to run. We keep some gas cans full for the tractor to mow the grass and the generator. As soon as that last can got emptied into the tank, we ran for more gas. Hubs fixed it so I could take a shower. I was grateful. Sure beats pouring gallons of bottled water over yourself, lathering up and then pouring more to rinse.
So How Did YOU Get Through This One?
If you live on the east coast, how did you weather Isaias? What do you do when the power goes out? To me, it almost seemed to be adding insult to injury on top of the plague we're going through. But this is Hurricane Alley. I know there's more coming. I've lived with hurricanes almost all of my life. They never seemed quite as bad as this one. I think I'm just getting old.
(This is too close to home. We were lucky. No damage.)