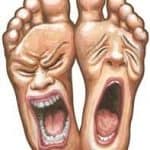 The agony of da feet. It's a just one of those things women have to go through to be fashionable, right? Maybe, maybe not. There's no agony if you wear the right size shoes. Do you wear your proper shoe size? Do you even know your proper size? If you don't, here's how to deal with and fix the agony of da feet.
What the Experts Say
Alexis E. Dixon, M.D., DISC Sports & Spine Center, Marina Del Rey California, writing for the ortho-dot-com site, says that as people age, their feet grow wider and flatter. The fat pad under the bones in the ball of the foot begins to thin. This can cause pain while walking. And referring to a study conducted by The American Orthopaedic Foot and Ankle Society (AOFAS), in which researchers examined the feet of 356 women, they found that 88% of the women were wearing shoes that were too small for their feet. Most of them had not had their feet re-measured in over a decade and more than 50% reported experiencing daily foot pain from their shoes.
A Little Personal History
I didn't like feet for the longest of time. Wouldn't let anybody touch mine. I didn't get my first pedicure until I was over 60. Feet were something you stuck your shoes on. That was all. But then I got into essential oils. I'm sensitive. The best way to test out an oil you may be sensitive to is on the soles of your feet. And did you know your entire bodily system is marked out on the soles of your feet? Well, I didn't. Now there was no longer any way to avoid my feet.
It took me a long time to buy properly-fitting shoes, too, despite the agony of da feet. In high school, I wore a size 7.5 shoe. Guess what? Now I'm a 9 or 9.5. And keep in mind I'm only 5′ nuttin' honey. My mother said at least I wouldn't blow away in a strong wind. HAH! For some reason, I didn't mind buying a size 9 but adding that extra half-size got me, even if the 9s were tight. I felt like I was declaring myself a bigfoot or something. Well, duh!!! I DO have big feet. Now I know my sizes in all my favorite brands. But oh, to be a size 7.5 once more!!!
Here's How to Get a Good Fit
First off, find someone who can measure your feet properly with a Brannock device. If there's no Brannock device, try on several sizes in the style you want and walk around on a HARD floor. There are carpets in shoe departments for a reason. The shoes feel better. You should buy your shoes late in the afternoon, too, as your feet swell throughout the day. Make sure you have enough toe room. And, please, buy the right size, no matter what the number. Don't like that number? Once you get your shoes home, take a black permanent marker and scribble over it. Once you've decided not to return them, that is. And don't tell yourself the shoe will break in. If that shoe doesn't fit who it will break is YOU!
Another friendly tip. Please don't buy those narrow pointy toe shoes unless your feet are shaped like that. And lower your heel expectations. Those 4″ hoochie heels you sported in your 20s will drop you on your ass in your 50s, 60s, 70s and beyond!
You may have to look around a lot more to find a well-fitting shoe that you actually like and enjoy wearing, but they're out there. I'm tough picking out shoes. Mine are mostly flats and things with athletic bottoms on them. When I was in high school, we used to say we were wearing sit-down shoes and a stand-up girdle. Well, my days of sit-down shoes are long gone. What's a girdle? 😉