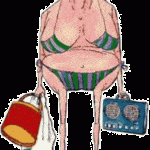 Everyone ages, right? Even if you're in your 30s, you look different than you did at 18. And if you don't, I hate you. Just kidding! LOLOL But for women in the USA, it almost seems like we're not allowed to get old. There are so many provocative headlines like "So and so has a hot bikini bod at 54!!!" They don't give a damn about so and so, only that that 'ole broad still has a hot bikini bod. . . but that's for another rant. So when I recently came across a page that showed famous actresses then and now in a backhanded, derogatory manner, I was like, "Hey, Can't a Girl Even Get Old Around Here?"
Youth, Youth and More Youth
Youth is everything in this country. Fashions are shown on very young women, if not girls. Hairstyles are shown on very young women. Shoes are modeled by very young women. That's why folks like Kim Kardashian spend a ton of money to avoid getting old around here. I believe Kim's not far from 40 now so she better get the BIG checkbook out. That seems to be the age where even a beautiful woman becomes an ugly old hag.
The Headline That Pulled Me In
The come-on was a pic of Jacqueline Smith back in her Charlie's Angels days and it said something like, "She was once the dream girl of legions of men, but you won't even recognize her now!!!" Well, Ms. Once the Dream Girl looks damn fine to me, considering she's gonna be 75 years old in October, for pity's sake!!! Yes, she's obviously aged, but she's still beautiful. I quick flipped through to get to her pics since she was the come-on pic, but then I backed up and was flabbergasted.
Why Was I Even Looking at This Crap?
It was one of those articles where they try to trap you with a gazillion ads on the page, hoping you'll slip and click on one of them or won't be able to find the word NEXT. I hate those things, but they lure me in just like the rest of you. As I clicked through from frame to frame I started to gasp. What was wrong with these beautiful women?
PSA: We All Get Wrinkles
I went from one gorgeous woman to the next, both then and now. Did they look different? Of course. Did they look older? Of course. Did they look good? Of course!!! As I went through the pics I got madder and madder. HOW DARE THEY? Everyone ages. Everyone gets wrinkles. And I don't care how much money you have, those wrinkles are gonna show eventually. And, yes, plastic surgery falls, too. You can run, baby, but you can't hide!!!
Am I Looking With Old Eyes?
Yes, I'm old, too, so am I looking with old eyes? Probably. I am definitely not looking at the now pics with the eyes of a 25-year-old man looking for a thrill. That's for sure. But still, I see women who have aged, some better than others, of course, but still look GOOD. Of course, to society I am pure-D crazy! No old woman is attractive, hot, sexy, pretty, beautiful. . . . pick your favorite word, unless she has a hot bikini bod, that is. WE WANT THE YOUNG STUFF!!! I would tell you what you can do with that, but it's a PG-rated blog, at least most of the time. 🙂
So Why Can't We Get Old Around Here?
My answer to this question has a lot to do with the advertising industry. They've set up this youth = beauty and old age = YUCK scenario. Even older men. . . . let's see if I can put this in a not-gross fashion. Older men think they've hit the fountain of youth if they score a young girl. I beg to differ. I think you just look like a pathetic old man. But that's me. I'm just Old Busted Hotness.
PROOF WE'RE STILL HOT. . . 17 AND 67!!!