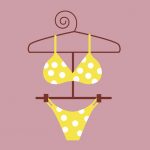 The words *hot bikini bod* can cause my hot (not so) bikini blood to boil. Everywhere you look these days, all folks want of women is a hot bikini bod. Cut me a break!!! Men can have a beer belly, hair sprouting everywhere and be bowlegged, yet they will still be reviewed based on their talent. Women? No hot bikini bod, no talent. Sadly, in our society a woman's talent depends on size.
What They Want
You would think that Carrie Underwood would fit the bill of what they want perfectly. She's young, gorgeous, ripped after two kids and can tear up a song like nobody's business. Looks? Check. Brains? Check. Bod? Check. Talent? Well, depends on if she bulges in that bikini or not. As long as she has that hot bikini bod, yeah, she's talented.
The Older Folks
Melanie Griffith, a talented actress, is 62. Want to know what's the only headline I've seen on her recently? "Melanie Griffith, 62, stuns in sports bra." Forget the talent. Let's gawk and gape at that sports bra. Yes, she looks good for 62 and, yes, she was wearing a sports bra. Stuns? She looked fairly ordinary to me. And just in case the question is burning a hole in you, she had on a rather plain pair of khaki shorts under that sports bra.
Elizabeth Hurley. She was a model. I don't expect her to have instantly morphed into an old hag. And like most models, she's skinny skinny. Headline, please. "Elizabeth Hurley, 54, stuns in sexy Versace dress from 21 years ago." Here we go with that "stuns" crapola again. My first thought when I saw this was. . . why is she wearing an old dress? If you guess it's because I've never owned a Versace, you'd be right.
Almost Old Folks
Let's move into some folks who aren't quite old yet, but are old for today's society. If you watch the Real Housewives (yeah, right) TV shows, you've probably heard of Kim Zolciak. She doesn't impress me, but she's a mom of six and still has a pretty hot figure. So here's the last headline I saw: "Kim Zolciak celebrates her 42nd birthday in a tiny pink bikini." Kim may have had on a tiny pink bikini, but all I saw was boobs. Let's just say the gal is well-endowed by her creator.
Another old lady at 42 is "Mad Men's" January Jones. Headline: "'Mad Men' star January Jones, 42, stuns in nautical-inspired bikini." And, yes, she DID look phenomenal in that bikini. I'll admit it. But forget about her character on "Mad Men." What acting talent? Just look at that bod! And what is it with that word "stun" these days? I think some of the so-called reporters gawking at these bods need to get hit with a stun gun!
Young Stuff
And now on to someone I had to look up. Never heard of Francesca Farago. She's all of 26. What caught my eye, though, wasn't the headline. . . "'Too Hot To Handle' star Francesca Farago shows us her new bikini line". . . but the fact that her entire arse was hanging out of that line! I mean the whole thing. Could that be what people were looking at? Ya think?
THE ULTIMATE
Okay. I admit I'm jealous here. The girl is only two years younger than me. I'm speaking about the incredible Christie Brinkley. She's always been beautiful. You won't get any arguments from me there. She's taken to showing off pics of herself in bikinis with her much younger adult daughters to prove she's still got it, so. . . "Christie Brinkley, 65, flaunts incredible bikini bod." (That was last year, BTW. She's now 66.) Okay. We get it. She's got it. She has fandamtastic genes. She will never look her age, but she's still 66 and, if she ever allows a pic of herself without makeup, unretouched and close up, you'll see it. However, I'd bet the house and the dog on the fact that she'll never look really bad or really old.
So How's YOUR Hot Bikini Bod?
Oh, you don't have a hot bikini bod? Sure, you do. It's said that to have a hot bikini bod, take your bod, put it in a bikini and go out on a beach where it's hot. HAH! But seriously, if you're a senior and don't look quite like Christie Brinkley, it's okay. You're YOU and there is no one else out there like you. Got wrinkles? You've earned them. Got gray hair? You worked for it! Got rolls? You're a busy woman who doesn't live in the gym and likes the occasional snack, so of course you do. And I'm sure you have many talents that may never be spoken of.
This country needs to get real. Nobody focuses on a woman's talent, only her body. And if you still don't believe me, have you seen Adele recently? This girl can SING!!! She was an extreme talent when she was bigger than what society wants to see. She's always been an extreme talent. But the world went gaga when she dumped a ton of weight recently. No mention of her extreme talent, just her body. It's sad really.
So. . . get that bikini, that tankini, that one-piece, that swimdress or whatever you're comfortable in and take your (OLD) hot bikini bod out on the beach. Nobody's really looking anyway. They're too worried about their own hot bikini bod and, God forbid, if any flab is showing. Enjoy yourself!
Hard to believe this was 60 years ago, right?