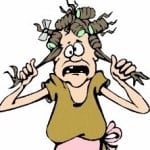 AARP is announcing that they have designed a tablet especially for apparently stupid Baby Boomers. It's called the AARP RealPad Tablet.
Not Enough Tablets In The Market?
How many tablets are out there on the market right now? I have no idea, but I know they are made by Apple, Samsung, Acer, Asus and my favorite, the MS Surface 2. I have seen them as cheap as $49 so I'm sure there are many more.
AARP says the RealPad Tablet is designed for the over-50 customer who is a "more apprehensive technology user." Really? I know lots of over-50 folks and they are pretty technology savvy.
What Makes This One Special For Boomers?
The RealPad Tablet has built-in tutorials which are supposedly designed to help educate users, as well as adding a "RealQuick Fix" feature which is a trouble-shooting menu. And if you still don't know what happened, there will be phone/online 24/ support. No word yet on if this support is included in your purchase or it comes at an additional charge.
Should I Be Insulted?
Maybe I'm reading this wrong, but I'm sorta kinda insulted by this. I never had a tablet until last summer. I got an iPad Mini. It ultimately wasn't what I wanted, so I traded up to a MS Surface 2. Guess what? I figured out the iPad Mini and then I figured out the Surface 2.
And the Surface 2 had the dreaded Win 8 on it, too, something I never used before. No problemo! Took me about 15 minutes to get around on it.
I am a pretty average computer user. I know my way around my computer and a variety of laptops, including a Chromebook and now the Surface 2. And. . . GASP, HORROR, SHOCK. . . I'm over 60! While not a complete technoeejit, I don't consider myself particularly technically adept either.
I can, however, figure out which buttons to push, be it on a laptop, keyboard or touch screen. Is it that hard that we need a special tablet that screams OLD FART???
Deets If You Want One
However, if you feel the need, the RealPad Tablet will sell for $189. You can pre-order it now or wait for a few more weeks. It will be on sale at Walmart in mid-October, complete with a one-year AARP membership included.
Technical specs:
1.2GHz Intel Atom processor
16GB memory
Android 4.4 KitKat OS
7.85-inch display
5.0 megapixel rear camera
2.0 megapixel front camera