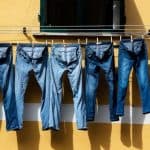 Years ago, I had a much younger friend who used to say, "Oh, I just pop out of bed, jump into jeans and I'm set to go!" Ahhhh, the enthusiasm of youth! (Did you get that jumping into jeans part? More on that later.) I'm not downing this sweet young lady, but every time she said this I thought of the song "Those Were the Days." As I forced my old arse out of bed this morning, I thought I'd give you some insight on how popping out of bed and jumping into jeans happens when you have senior style. You'll either identify with this or, hey, it's coming for ya if you are privileged to live long enough. LOL
The Out of Bed Part
This MAY be the hardest part. I have creaky, stiff bones and joints. I can't get right out of bed or my big butt will land on the floor. So I lay there reading online newspapers on my iPad and flex my legs and stretch. When I know I can get up safely, I do. I have been wrong. Sometimes safely still hits the floor, but I've got a good handle on this now. So where do I go?
The Desk Chair
My desk is currently right next to my bed. Each night I leave the chair turned towards me so I can just hurl my stiff self into it in the morning. Once there, I keep stretching the torso as I fire up the big desktop computer. After about an hour of flexing and stretching in the chair, I'm good to go. We hope. And let's pray I don't have to pee!
The Clothes
Now that the popping out of bed part is done, it's time to jump into those jeans. Are you laughing hysterically yet? 😉 Jumping into anything is a no-go for me. This body don't jump. I manage to select an outfit, which I should do from checking the weather the night before and picking appropriate clothes. . . which I SHOULD do. . . and approach them with trepidation. And I have to admit that I rarely wear jeans in warm weather these days, only in winter. So right now I'm technically jumping into leggings. HAH!
That Jumping Into Jeans Thing
When I DO wear jeans, it isn't a simple jump-in, trust me. It's more of giving them the hairy eyeball to see if we still have a meeting of the minds. . . and the waistband. Once I know they are a feasible choice for the day, I gather up the legs, like putting on pantyhose (remember those?) and ease my feet and lower legs in. Then I shimmy them up to right above the knees. Bear in mind I'm sitting down at this point. When I stand up, I attempt to drag them up to the tops of my thighs. I may have to do the push, tug and shove routine to get all the flabby bits appropriately distributed. Then it's over the hips and, hopefully, buttoning the waistband. A little bit of doing the Twist ensures everything is in the right place.
Pop the Top
Hey, I may be old but I can still pop on a top! So I grab the selected top and just pop it over my head and pull it down. Wait. Did I remember to put a bra on? I sure hope so or else I'll have to do it again. And then there's always the, "Do I really want to wear this?" thing. Sometimes I leave it on. Sometimes I change one piece. Sometimes I change both pieces. More than once.
Finally, I Can Face The Day
Now I'm ready for all life throws at me. All I have yet to do is slide my feet into some shoes (a tale for another time) and have at it, right? Sometimes. But whaddya do when the jeans button but you can't sit down? You giggle, rip them off and pull out another pair of leggings. 🙂
And if you're too young to remember the song I mentioned above, first released in 1968, here's the beautiful Mary Hopkin singing "Those Were the Days."