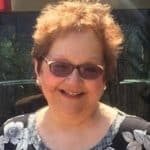 It's the time of year dreaded by all, especially by those who are not young, slim or anything close to the beauty standards of the Sports Illustrated Swimsuit Issue. It's Swimsuit Season! Are you resigned to going to the beach or pool in tank or tee and shorts? Understood. That was my summer wardrobe, too, but no more. Old Busted Hotness is breakin' out her Old Busted Flab. (More about those boobs to come.)
I haz swimsuit!  (Me so happy. . . 🙂 )
 The Big Boob Caper
Have you seen the latest craze in plus-size swimwear? Due to the fabulous rise in body positivity, larger gals in two-piecers are proudly showing off their tummies. The models are freakin' gorgeous and toned! My amazement comes, however, not from the tops of the suits but the tops of those models! To be more than a bit crude. . . . where'd they get those knockers? I didn't think I was a slouch in the boob department, but I couldn't fill those cups with my ass. Age and weight loss have taken their toll and if things don't stop, pretty soon I'm gonna need fluffy gym socks to fill out my C cups.
Beach Pain
I remember being happy as a little kid on the beach. Truth be told, I'm always happy on the beach. But that's before I was humiliated for being fat. Once in middle school, I had a two-piece suit. It wasn't a bikini. It was what they called a hipster. It was green. My Grandmom bought it for me. My mother was beyond mortified. People were gonna see her kid's fat rolls. OH, THE HORROR, THE SHAME!!! I was a junior size 11, huge in my mother's eyes. Oh, to be that size now.
From here on out, nice tank suits were the name of the game. But as I got teased and humiliated at the beach by both men and women, I decided it was time to revert to the tank tops and shorts. . . or wrap myself in a beach towel. And as much as I loved the beach, I just avoided it. Too painful.
Back to the Boob Suits
So I decided those big boob suits were just mock-ups for the model at hand and started ordering. Surely those cups couldn't be that size in real life. Wanna bet? I looked like the old joke about the kid who proudly marches up to her teacher and announces she's wearing a training bra. To which said teacher sweetly replies, "But what are you training, honey?" UGH
Last year, I bought a one-piece suit. It's wearable, but the leg holes are too big and it fits a little funny. My parts are different sizes. Tankinis allow a better fit with separates. And don't say the words "swim dress" to me. Those words scream old lady loud and clear and bring back my childhood shame. 🙁
Success!
It took quite a bit of searching and returning, but. . . I finally have a great-fitting tankini top courtesy of Talbots. Yeah, the place I call the Muffy & Buffy store came through. Not usually my cup of tea. But one day, a gorgeous swimsuit popped up on my Facebook page and I clicked on it. To my amazement, it was Talbots!!! I scanned down the page and saw a tankini top in the same beautiful print. It was on sale and I got an online coupon for a massive percentage off. This place ain't cheap! When I pulled it out of the package, I thought. . . . hmmm, maybe? And the best part? I would not need to stuff honeydew melons in the cups to fill them out. I put it on and modeled it for Ray. His eyes lit up. It's in my drawer.
I'm planning on wearing it with a pair of black bike shorts from Fabletics. I also ordered a black swim skirt from Swimsuits for All.  And, yes, I know what I said about a swim dress, but this doesn't look like one, even with the skirt.
So when you go to the beach in South Jersey this year, if you see a (very) short, fat old broad with caramel-colored hair sticking straight up, give me a wave. And if fluffy gym socks fall out of my bra, just palm 'em discreetly and give 'em back to me later, K?
See ya Friday with a great review!