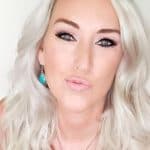 Dear Chelsie,
I don't remember how I found you, but I believe I was on You Tube looking for something motivational. Not sure why I clicked on you, but I did. The last thing I thought I needed was some glamour girl Barbie doll telling me what to do. As I was about to click out of there, you said shit ton, one of my very favorite technical terms. 😉 Then you started talking about kicking ass. Somewhere down the line you dropped an F-Bomb. Blonde bombshell or not, dare I think I found my tribe and its name is Chelsie Kenyon?
A Little About Me
I am short and round, an old Nana who is way past her glory, if I ever had any. I have a self-esteem problem. My mother didn't like me and, to her, I was fat, ugly and good for nothing. She repeated it till her dying day when I was 61. She's still in my head, but I'm fighting. So your California Golden Girl look was the last person I thought I wanted to listen to. You could have Bobbi Brown do my makeup, dye my hair, carve the tonnage off of me with a chain saw and put me on a rack for a year or so. Not a snowball's chance in hell of looking like you or even close. But, hey, I'm old enough to be your mother, so. . .
Chelsie, You Kept Getting In My Head
After that first video I looked you up on the net. I found this massively impressive website, chock full of glamour shots. I cringed. But I listened, too. You were real. I found the link to your Facebook group and clicked the join button. To say I was blown away is an understatement. I was still having trouble with the glamour girl look. Jealousy? Not at my age. Maybe regret for what never was and what never will be. After a day or two, I was hanging on to every word you said. And then I did the unthinkable. . . I bought a course from you, Ms. Barbie Doll. Okay, okay. It was a small course, but I bought it.
That First Course
Your course came in two parts. The little second part about building a Campsite link I did first as it looked like something this technoeejit could handle. And I did. I was so pumped! So I tackled the other part, "Quick and Dirty Funnels." Of course, I didn't tell anybody that I didn't know what the hell a funnel was. But I figured I was still teachable, even at my age. So I went through the course once. I went through the course twice. In the middle of the third time I broke down in tears. I had no idea what was going on. Should have saved my money. Every negative voice came rushing back.
But Your Group. . .
I was going to get out of your group, but. . .I couldn't. I was like the proverbial moth to a flame. Then I jumped in another group with you. And then. . . the photophobic that is me purchased your Fauxtography course, you know, the one that makes you look like you've done a pro photoshoot but using just your phone and some props. WHAT WAS I THINKING?
When I look in the mirror all I see is an ugly old lady with wrinkles and a huge nose. Yeah, I know that's not technically true, but it's historical conditioning. I've done a lot of work in breaking out of that, but WHAM, BAM, THANK YOU, MA'AM. . . . taking a photography course brought it all slamming back like a sucker punch to the gut. The voices in my head told me I was an idiot, a fool, stupid, yada yada yada. But, hell, I paid for it. So I opened it up.
At first I had every excuse in the book why I couldn't do this. There isn't any white space in my house. The tripod doesn't work right. I don't know how to use the camera in my phone all that well. I'm gonna look ridiculous. I'm just gonna open up old wounds. And on and on it went. My usual self-hatred. But I kept clicking on the lessons. And a strange thought started appearing, one that said maybe I COULD do this. Every time I closed the course, my brain snuck right back in and snickered, "FOOL!!!" But. . .but. . . but this was really good information. No, I was NOT gonna look like you. I was gonna look like me. That had to be okay. Me is okay. I kept repeating that over and over and over again.
And a Selfie Started It All
The course is not about taking selfies, but I decided to try a few things. I had to dig deep and figure out what was actually fueling my camera fears.
First one was hair. I have very little of it due to medical conditions. And right now what's left is plague hair, not cut since February. But hair is easy. I have wigs. In fact, I have a wig almost the exact color my hair was in the olden days, kind of like a bright shiny penny. The second thing is I have next to no eyebrows. Then what did I buy the damn Anastasia eyebrow powder for? I went to work. Eyebrows on. Check. Wig on. Check. And here I sat, feeling like a foolish old lady who was playing dress-up.
I started clicking away. I took some ridiculous-ass pics at first. Thank God you can erase them. I would have had to cut up the negatives in the old days. Remember when you had to wait two weeks to discover your photos sucked? LOL But then I got a few good ones. And then I got one that made me sit here with my jaw on the desk. That can't be me! I sent it to my husband. This man who has loved me for 52 years texted back, "Who dat?" with a heart on it.
"THE Selfie"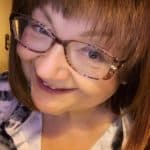 And Now Push Comes to Shove
Now it was time to do what scared me the most. Me. On Camera. Front-facing. Me and the tripod. Hoo boy!!! I chickened out several times. I repeated several sections of Fauxtography, all the while seeing Chelsie's beautiful smile and hearing her encouraging me to pull a Nike and Just Do It. So I did. Again, the ridiculous-ass pics showed up. Delete works nicely. But then there were a few. . . I'll let you be the judge."
Thank You, Chelsie!!!
I can't thank you enough, Chelsie Kenyon. You pushed me, you shoved me, you kicked my ass hard. You. Someone I normally wouldn't even give the time of day with a broken watch only because of how gorgeous you are. How ridiculous is that? But the substance behind that gorgeousness came through loud and clear, even to this faded and jaded old lady. I am so glad I stayed. You now see me all over your groups. I may be the oldest one in there. I absolutely don't care. I'm in. And guess what? You're stuck with me, woman. I'm not going anywhere. Oh, and I just bought two more courses. 🙂
Love,
Carla
P.S. Wanna go check Chelsie out? Her name is linked to her site at the beginning of this blog post. Her FB group is The E.P.I.C. Woman Collective – For your Brain and Business. Just click and knock on the door! And for a hella good marketing technique, try The Daily Prompt. You will NOT regret it!!!